Perimeter Protection in the Utica Shale Play
SECURITY CAMERAS FOR OIL AND GAS SITES
Due to their remote locations and valuable assets, oil and gas sites are targets for theft, vandalism, and terrorism. The combination of security cameras and thermal cameras should be included in any oil and gas site security plan. Understanding the importance of security cameras for oil and gas sites, i2c Technologies designed the VPMax Customizable Pole Mounted Camera System as a first line of defense against threats to remote oil and gas sites in the Utica Shale play. When an intrusion or threat is detected, the VPMax system automatically alerts monitoring personnel who take control of the unit's PTZ camera, get video verification, collect key video evidence, and if necessary, contact local authorities. The VPMax can be integrated with existing SCADA and PLC's for an automated response to critical events and 24/7 Central Station monitoring is available.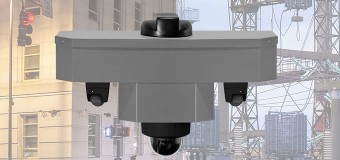 VPMax Customizable Pole Mounted Camera System Features
The VPMax is fully customizable. Standard camera setups can include an AXIS HD 24x Optical PTZ camera, 2 fixed cameras, liscense plate recognition cameras, or 2 thermal cameras. The VPMax also can be fitted with Axis Camera Station, a ruggedized PC with 1TB of storage, and an advanced 4G LTE cellular data modem that supports Verizon, AT&T, and Sprint. The rugged powder coated housing is designed to deflect rain and snow from obstructing the camera views.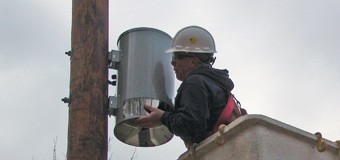 Designed for Easy Set-Up and Redeployment
The VPMax is designed for one-man deployment, and weighs only 50lbs when fully equipped. It easily mounts on a standard utility pole or building and requires 110 VAC or optional solar power. When surveillance is no longer necessary, simply re-deploy at another site. i2c Technologies can ship units anywhere in the continental U.S. and our tech support staff will remotely set-up and configure each unit.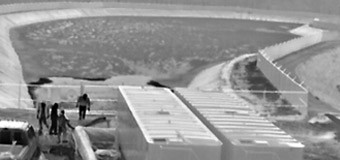 Thermal and Temperature Alarm Cameras
Thermal cameras can detect intruders in total darkness and "see" leaks and temperature variances. Temperature alarm cameras can alert personnel when equipment temperatures exceed operational thresholds, keeping you in control of your operations.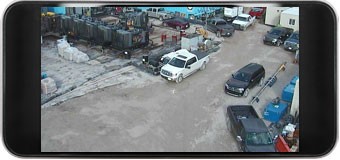 View Live Video From Any Mobile Device
Get real-time alerts with image snapshots sent to your mobile devices when an intrusion is detected. Remotely access and control your security cameras for oil and gas sites via any mobile device to evaluate issues in real time, giving you the information needed to make informed decisions.
Network loudspeakers
are also available for live, two-way communication using a mobile device.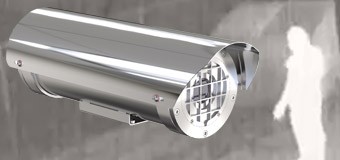 Specialty Cameras and Housings
Every i2c system features
Axis IP cameras
, renowned for their HD clarity and reliability and NDAA compliant for use by the U.S. government and critical infrastructure. Specialty security cameras for oil and gas sites like explosion proof, radar detection, infrared illuminators, and video analytics are available.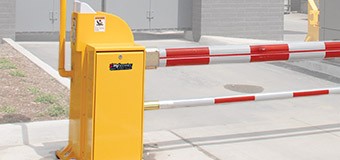 i2c Technologies offers keyless gate/door entry solutions with intercom and video. We offer access control software with map view for central control, touchscreen compatibility, and allows door control from multiple workstations and readers that can support a variety of proximity credentials (key cards, fobs, badges) and are HID compatible.
WE PROUDLY SERVE MANY OTHER INDUSTRIES, JUST LIKE YOURS.
PROVIDING PROTECTION, EXCEEDING EXPECTATIONS

Mark Alberini
As an Axis GOLD Partner for the past 8 years and a custom network video solutions provider, i2c continues to bring innovative, end-to-end solutions to the market by combining the best in hardware, software, analytics and execution. It is a pleasure to support i2c as a total solutions integrator that has met and exceeded the strict standards set forth by Axis' Certified Partner Program.

Brendan P. Joliet
i2c Technologies has been a superb partner in increasing our corporate security posture. Their top of the line equipment combined with experts who understand our needs in the field and our office environments make i2c an invaluable partner as we improve our security systems.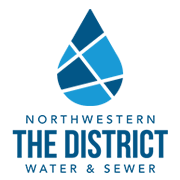 Gavin Smith
We've been using them for cameras at some of our remote sites for 7 or 8 years. The systems are generally reliable, staff is knowledgeable, and support is timely.

Randy Peters
I had extreme limitations with the type of security systems I could use to protect my storage properties. After extensive research, I discovered i2c Technologies. i2c conquered those limitations, and now my business is secured by the most user friendly software, and camera technology the industry has to offer. I now consider them a vital part in the future growth and protection of my business.
Resources and Free Downloads