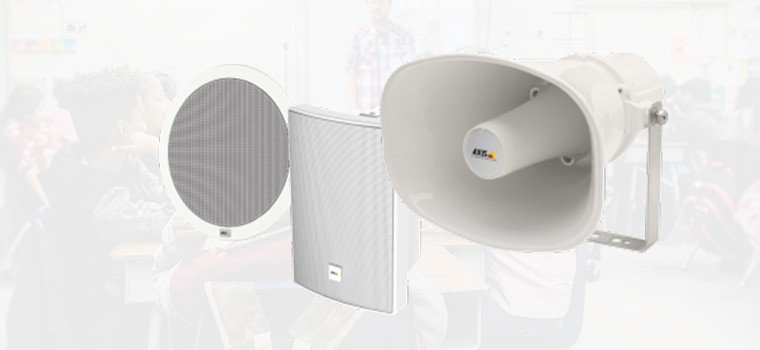 When you think of a school PA system, the first thing that comes to mind may be your everyday school-wide announcements. But in reality, the right school PA system can also enhance the safety and overall experience of students, teachers and staff members. Let's explore the many benefits of equipping your school building, and even your entire district, with an IP-based public announcement system.
What Is An IP-Based School Intercom System?
While a standard school intercom is generally connected either to a single speaker or the entire building and can only be broadcast from a single point, an IP-based system has a far greater level of flexibility. An IP system's internet connection offers much more potential for security and convenience than previous generations of PA systems. The following are several ways that an internet-based school PA system can protect and improve your school environment.
Total Integration
Rather than having multiple systems for the sound, control and school security camera system, an IP-based system can integrate them all. In the case of an emergency, having a single interconnected web of audio communication and visual surveillance could make a world of difference. For example, if a suspicious person were trying to enter the building, a school administrator could both see and communicate with them through a preset or direct message. If the situation escalated, they could even activate a panic button through the same system.
24/7 Remote Access
Because an IP-system can be fully integrated and is connected to the internet, a school administrator could deliver important messages from anywhere, even if they aren't in the building. An IP-based school intercom system means that teachers and staff no longer have to go to the front office to give their message through a tiny microphone. This feature is especially handy after hours for fighting vandalism, especially if security cameras are integrated into the system. You can set up the cameras to send a notification if they're triggered by motion or another preset cue. This gives administrators an easy way to view and speak directly to the intruder through the school intercom speakers before taking further action.
Flexible Zones
A big time-saving feature of IP-based school intercom systems is the ability to broadcast different messages or sounds to different zones at the same time. You can also easily change and add zones as needed without rewiring anything. Additionally, the zones don't even have to be in the same building: you could play music in the high school's gymnasium during a pep rally while also announcing spelling bee winners at the elementary school.
Simplified Maintenance And Testing
An IP-based PA system for school use has the benefit of built-in testing functions, which allow you to test whether all speakers are working without having to check each one manually. This is possible thanks to a special microphone embedded in the speaker that picks up its own acoustic pattern and reports back whether the speaker is functioning. If a speaker is not working, it will send the administrator an alert. On top of convenience, this feature also helps provide the peace of mind that all speakers in your school sound system will work when you need them to.
Educational Uses
While having a school mass notification system is important for security and messaging purposes, there are other ways an IP-based system can benefit your school. For example, teachers can stream educational audio or amplify class lectures over the speakers in their own classrooms by connecting to them via laptops, tablets or even smartphones. This makes it easier for teachers to share information outside of their standard class materials and also helps address the different learning styles and needs of their students, some of whom may favor auditory learning. This type of use won't interfere with the school intercom's other purposes because, if the speakers are needed for an important announcement, that announcement can override the teacher's broadcast.
Find Everything You Need For An IP-Based School PA System At i2c Technologies
Whether it's a scheduled announcement or a district-wide broadcast, an IP-based public address system for school buildings can handle it. And with i2c Technologies, there's no need to go through a complicated bidding process to find the right price — we are an Ohio state term schedule vendor, meaning we can always ensure public schools the best pricing for their needs. Have more questions about our systems and how they can enhance your students' education? Contact our team of experts today.