Cincinnati Ohio Video Surveillance Products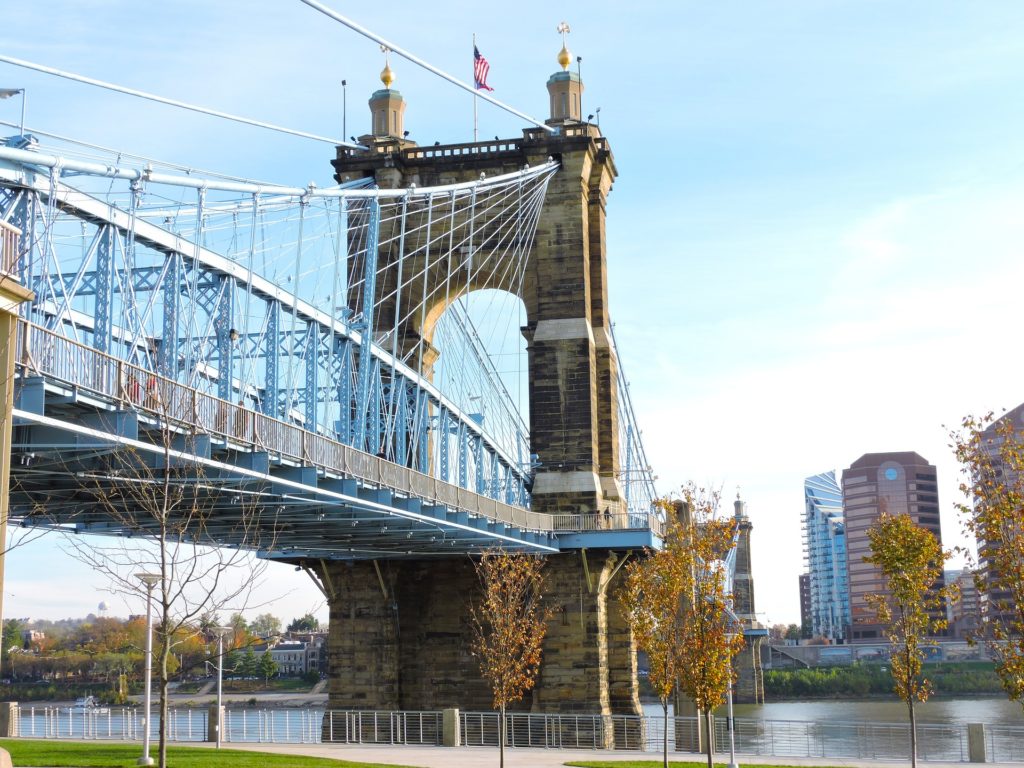 If you run a business in Cincinnati Ohio, then i2c Technologies wants you to know that we can cover all of your video surveillance and integrated security system needs. The same goes for any business or government office in the Cincinnati area. At i2c, we can say with confidence that we can rise to meet any of your surveillance needs because we've been performing security camera installation projects from our North Canton headquarters for over a decade. Bringing Cincinnati Ohio video surveillance products is just one of the many ways i2c can keep your SW Ohio company secure.
i2c Technologies knows how to make sure that your Cincinnati-based school, office, industrial complex, warehouse, or retail business will have the integrated security solution it needs for you to feel safe and confident. Beyond that, i2c also devises IP-based video surveillance for churches, synagogues, and other places of worship; hospitals, nursing homes, and other healthcare institutions; prisons, jails, and other correctional facilities; oil and gas sites; electrical substations; and any other building or complex in Cincinnati, Hamilton County, or the surrounding area that needs a security system, audio system, or video surveillance. Are you a police department that needs a deployable pole camera for surveillance? Contact the technicians at i2c!
How can i2c Technologies provide such comprehensive and far-reaching video surveillance and integrated security services to the people of Cincinnati Ohio and beyond? The answer is that i2c Technologies has been in business for 15 years, serving the needs of our clients throughout Ohio. You can trust the knowledgeable professionals at i2c to provide your company with the best equipment through our partnership with Axis Communications. Not only that—you can also count on i2c's IT experts to properly install your company's video surveillance system and make sure that it functions at optimal capacity.
And the market for Cincinnati Ohio video surveillance products is undoubtedly huge, considering the large number of Fortune 500 companies that have their headquarters (or significant bases of operation) in the Greater Cincinnati area. In fact, 9 Fortune 500 Companies and 15 Fortune 1000 companies call the Cincinnati area home, giving Cincinnati a higher number of Fortune 500 company headquarters per million people than New York City, Los Angeles, Chicago, and Boston.
The fact is that Cincinnati is a powerhouse of business and industry, not just within the state of Ohio, but in the Greater Midwest and, indeed, at the national level.
Cincinnati Ohio is home to Procter & Gamble, which is one of the largest consumer products companies in the world. If you have ever brushed your teeth, shampooed your hair, or washed your clothes, (and you surely have!) then you have likely been the user and beneficiary of a P&G product. And you ultimately have Cincinnati Ohio to thank for your cleanliness! Brands such as Dawn, Olay, Crest, Charmin, Head & Shoulders, Puffs, Pampers, Oral B, Vicks, Luvs, Old Spice, and so many more come from Cincinnati's own P&G.
But the Queen City, or Queen of the West, as Cincinnati was dubbed in the 19th century, hosts many more companies whose names are known to consumers and followers of the financial pages alike. (Speaking of names, you might be wondering how Cincinnati came to be called "Cincinnati." It sounds like an unusual name, after all. Cincinnati owes its moniker to the Society of the Cincinnati, a hereditary society of descendants of officers who served in the Continental Army or Navy during the American Revolutionary War. The Society of the Cincinnati, in turn, takes its name from Lucius Quinctius Cincinnatus, a Roman farmer who assumed dictatorial powers for a brief time to handle a crisis that threatened the Roman Republic. Once the invasion was thwarted, thanks to the leadership of Cincinnatus, this namesake of Cincinnati relinquished his emergency powers and returned to his modest life on his farm. Cincinnati Ohio is thus ultimately a spiritual descendant of a man who represents the highest qualities of civic virtue. Today, in Cincinnati, there is even a statue of Cincinnatus at his plow, in honor of the city's namesake.)
Returning to Cincinnati's 21st-century status as a hub of commerce, we can see that Cincy hosts other instantly-recognizable companies beyond P&G. Cincinnati is also home to The Kroger Co., which is the largest supermarket company in the United States. In addition, Cincinnati serves as the headquarters of Macy's, Inc., which is the parent company of Macy's and Bloomingdale's.
Cincinnati has also made its mark when it comes to media enterprises. The E. W. Scripps Company, famous for, among other things, being the patron of the annual National Spelling Bee, is proud to spell its hometown "C I N C I N N A T I."
If you're young and you can spell, then you probably have a bright future. The good news is that Cincinnati will have you covered. Cincinnati is the home of the University of Cincinnati and Xavier University, with Miami University not too far away in Oxford Ohio.
But Cincinnati is not all business and studying. There's also fun to be had in The Nati. If you're in Cincinnati in the summertime, you can always catch a Reds game. Or if you make it to Cincy in the fall, then the Bengals can be a part of your highlight reel. And in nearby Mason Ohio, you can enjoy Kings Island, which proudly proclaims itself to be "the largest amusement & waterpark in the Midwest."
No story told about Cincinnati would be complete if it failed to mention Cincinnati chili, which is the food most often associated with the region. Cincinnati chili may not be what most unacquainted people think of when they think of chili. You shouldn't eat Cincinnati chili out of a bowl with a spoon. Instead, you should eat it with a fork, after you've used it to cover spaghetti. And you know that you're doing it right if you cut it like a casserole rather than twirling the spaghetti noodles around on your fork. But don't worry: hot sauce, cheese, and oyster crackers are all still very much encouraged! Both Skyline Chili and Gold Star Chili will be happy to show you how it's done!
To many other companies in Cincinnati Ohio video surveillance products might just be another commodity. But to i2c Technologies, these IP-based security systems are a way of life. Let i2c show you our expertise firsthand through one of our integrated solutions and these fine products:
Axis Network Cameras
Network Audio Systems
IP Access Control Systems