Akron Ohio Video Surveillance Products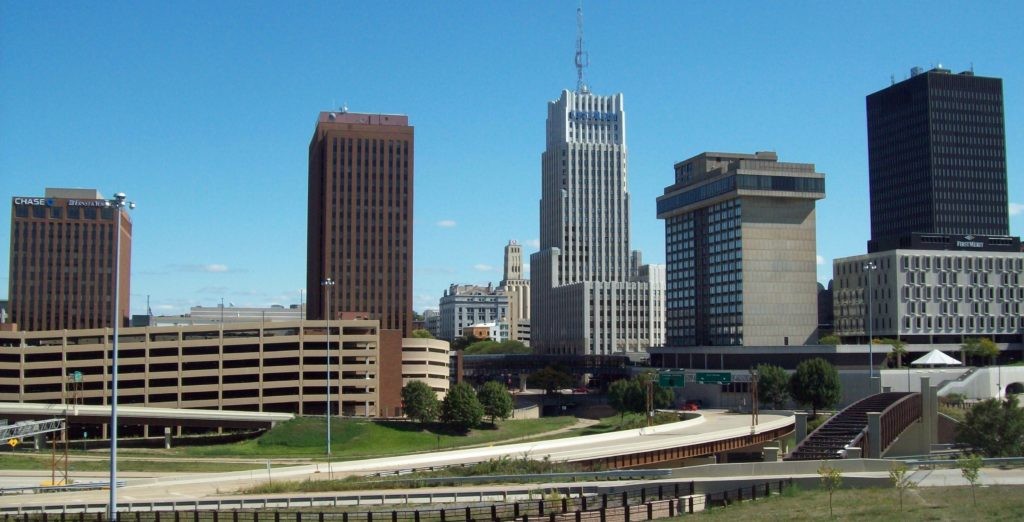 i2c Technologies is proud to serve the businesses and residential communities of Akron Ohio. Providing Akron Ohio video surveillance products is just a part of what i2c does, and our track record of success in security camera installation speaks for itself. Whether it's designing a custom-made surveillance system, developing the perfect security software to meet a customer's needs, or delivering the finest cameras from Axis Communications, you can count on the experts at i2c Technologies.
One prominent Akron-based business served by i2c Technologies is Gojo Industries, a worldwide manufacturer and supplier of skin care, hygiene, and sanitizing products. Gojo Industries works with industrial and medical institutions, as well as the general public. Anyone who has ever used Purell on their hands to stay healthy has Akron's own Gojo to thank!
i2c Technologies is pleased to provide Akron Ohio video surveillance products through our service to the City of Akron itself. Not only that, but i2c also brings our expertise to the County of Summit Government. Other major clients in the Akron area that i2c Technologies is proud to serve with our video surveillance include the Summit County Courthouse; the Summit County Jail; the Ocasek Building in downtown Akron, which hosts around 500 government employees from the state, county, and city governments; the National Inventors Hall of Fame; and that Akron Ohio culinary institution, Swensons Drive-Ins, home of "America's Best Cheeseburger."
Akron is not only the county seat of Summit County, it's also the largest city in Summit County, and the fifth-largest city in the state of Ohio. Civic authorities in Akron and an Akron-based company with worldwide operations all trust i2c Technologies with their security. This is a resounding endorsement for a video surveillance provider in North Canton.
Akron is a three-time All-America City, having last won the award in 2008. The All-America City Award is handed out by the National Civic League through a rigorous review process that strives to recognize "communities that leverage civic engagement, collaboration, inclusiveness and innovation to successfully address local issues."
For those who value institutions of higher learning, Akron has really made its mark. Akron is home to the University of Akron, a world-class teaching and learning center. Founded in 1870, the University of Akron is heavily focused on the study of STEM-related fields, including engineering, polymers, and advanced materials. It's no wonder then, that a longstanding nickname for Akron has been the Rubber City.
Of course, Akron Ohio wasn't just called the Rubber Capital of the World for work done at the university, though that most definitely played a huge part in this historical distinction. Akron also hosts that titan of the rubber industry, the Goodyear Tire & Rubber Company. This company is well-known to anyone who has ever benefitted from tires (AKA, all of us!) and fans of sporting events where its iconic Goodyear Blimp gives spectators a bird's-eye view of the action. Akron once played host to other tire manufacturers as well, including the Firestone Tire and Rubber Company, the Goodrich Corporation, and General Tire. The legacy of the dominance of these tire companies is still felt in Akron today. Neighborhoods with names like Goodyear Heights and Firestone Park show just how much Akron and the rubber industry were synonymous throughout much of the city's history.
Akron Ohio is well known, of course, to basketball fans in the United States and beyond as the hometown of LeBron James. Famously dubbed "King James," this living legend led the Cleveland Cavaliers to the team's first championship in 2016, coming back from a 3-1 deficit in the NBA Finals and making history in the process. The LeBron-helmed Cavs banished a championship drought in professional sports that Northeast Ohio had endured since the Cleveland Browns won it all back in 1964—20 years before LeBron was even born.
These days, LeBron is giving back more to Akron than just the pride that comes from sports championships. Now noted as a philanthropist, James founded the I Promise School in his hometown, which is just one of the many ways that the St. Vincent-St. Mary alumnus is giving back to Akron Ohio, the community that raised him and prepared him for greatness. Incidentally, i2c Technologies' Marketing Director, Carrie Doak, is also a St. V-M alum!
If it's sports that you're after, then Akron Ohio is ready to take the field, the court, or the pitch to thrill you! The University of Akron Zips have won the MAC Tournament title in men's and women's basketball, and the Akron Zips men's soccer team went undefeated in the 2009 regular season, winning the NCAA Division I national championship the following year.
The summers in Northeast Ohio might be a bit too short for most residents, but the people of Akron know how to make the most of the warm and sunny days that Akron manages to get. If America's pastime is your thing, you can spend a perfect summer evening in Akron at family-friendly Canal Park, cheering on the Akron RubberDucks, a minor league baseball (AA-affiliate) of the Cleveland Indians. July also brings that quintessential Akron event, the World Finals in the Soap Box Derby at Derby Downs.
Think that Akron is a place focused just on sports and industry? Then you should know that Vogue magazine recently wrote a travel article praising Akron for the city's music, arts, and culinary scene. The city that gave the world Devo, The Black Keys, and possibly the hamburger simply has to excel at all of those things.
If you want live music, Akron has all that jazz! Blu Jazz is a place to enjoy the nightlife in Akron while celebrating the role that Akron has long played in supporting this great American art form. Immerse yourself in the universal language of music and learn about the jazz greats of yesteryear who performed in Akron's "Jazz Corridor," including Ella Fitzgerald, Louis Armstrong, and Dizzy Gillespie. If your art tastes run more toward the visual or cinematic, you'll love the Akron Art Museum and the Nightlight Cinema, where you can see indie films on the big screen in an intimate 50-seat setting.
When it comes to food, the Rubber City won't hand you an empty plate. There's a lot to eat in Akron, but you will surely want to hit the iconic Luigi's Restaurant, which has been serving up Italian-style specialties since 1949. If you're more of a hipster craft beer and grilled cheese aficionado, then The Lockview is your kind of place. Or you can support and learn more about Akron's growing Nepalese community by heading to Nepali Kitchen!
When it comes to business, industry, civic excellence, sports, music, and food, Akron Ohio truly occupies a high place. And i2c Technologies is proud to provide and install video surveillance products to clients large and small. Our customers are located throughout Summit County and the rest of Ohio. Contact i2c today to learn more about how you can become one of them!
i2c Technologies is proud to offer Akron Ohio video surveillance products such as deployable pole cameras for law enforcement. Here are just a few of the fine surveillance systems i2c can help you get in order to improve your company's security: