THE VP400 MULTI CAMERA DEPLOYABLE UNIT
The VP400 Multi Camera Deployable Unit is a complete HD video surveillance system in a rugged housing that easily mounts on a utility pole or building. When fully equipped, it features an AXIS HD PTZ camera, up to three AXIS fixed cameras, an advanced 4G LTE cellular data modem for live monitoring and remote camera control, and an onboard PC for 24/7 recording, fast retrieval of key video, and a bandwidth-friendly performance. The VP400 can be rapidly deployed for event surveillance and security operations.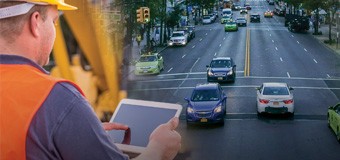 The VP400 a Variety of Applications
The VP400 Multi Camera Deployable Unit is ideal for Law Enforcement, Border Patrol, Construction Sites, Utilities, Gas and Oil Sites, Parks, Storage Yards, Parking Lots, Ports and Marinas, Event Monitoring and anywhere deployable outdoor video surveillance is needed.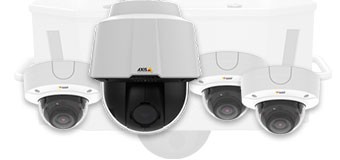 VP400 Components
When fully equipped, the VP400 Multi Camera Deployable Unit features an AXIS HD 24x Optical PTZ camera, 3 fixed cameras, i2c video management software, a ruggedized PC with 1TB of storage, and an advanced 4G LTE cellular data modem that supports Verizon, AT&T, and Sprint. The rugged powder coated housing is designed to deflect rain and snow from obstructing the camera views.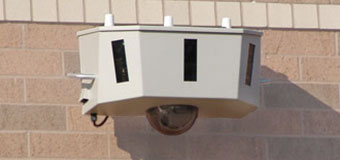 Designed for Rapid Deployment and Setup
The VP400 Multi Camera Deployable Unit is designed for one-man deployment, and weighs under 50 lbs when fully equipped. It easily mounts on a utility pole or building and requires only 110 VAC for power. i2c Technologies will ship these units anywhere in the continental U.S. and every purchase includes our user friendly software and remote set-up and configuration by our U.S. based tech support team.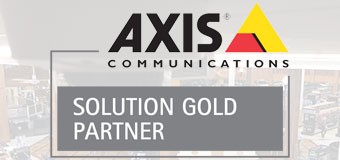 Quality Cameras and Reliable Protection
Every VP400 Multi Camera Deployable Unit features Axis cameras, renowned for their reliability and remarkable HD clarity. The three fixed cameras provide a 220-degree continuous field of view, while the PTZ camera automatically pans and zooms in on objects of interest. The VP400 has a full one-year warranty which includes all parts, labor, support and software updates, and affordable extended service agreements are available.
The VP400 a Variety of Connections
The VP400 Multi Camera Deployable Unit supports a variety of connections including fiber, copper, and wireless (point to point, point to multipoint, and mesh). When no connections are available, the VP400 can include an onboard ruggedized video server for local recording and an advanced 4G LTE cellular data modem for remote camera control, system access, and archive uploading.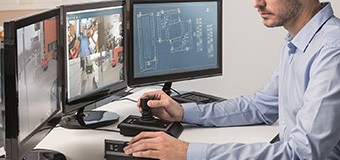 User Friendly Software
Every VP400 Multi Camera Deployable Unit includes Axis Camera Station software with easy retrieval, archive, and distribution of recordings, and Smart Search to help narrow your search for key video. No more spending hours fast-forwarding through video to find an event. It allows you to view and control your cameras remotely, and receive real-time alerts on any mobile or desktop device.
PROVIDING PROTECTION, EXCEEDING EXPECTATIONS

Brendan P. Joliet
i2c Technologies has been a superb partner in increasing our corporate security posture. Their top of the line equipment combined with experts who understand our needs in the field and our office environments make i2c an invaluable partner as we improve our security systems.

Mark Alberini
As an Axis GOLD Partner for the past 8 years and a custom network video solutions provider, i2c continues to bring innovative, end-to-end solutions to the market by combining the best in hardware, software, analytics and execution. It is a pleasure to support i2c as a total solutions integrator that has met and exceeded the strict standards set forth by Axis' Certified Partner Program.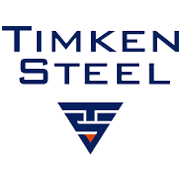 Randy Rutherford
Excellent company! Fantastic support at all levels! Highly recommended

Randy Peters
I had extreme limitations with the type of security systems I could use to protect my storage properties. After extensive research, I discovered i2c Technologies. i2c conquered those limitations, and now my business is secured by the most user friendly software, and camera technology the industry has to offer. I now consider them a vital part in the future growth and protection of my business.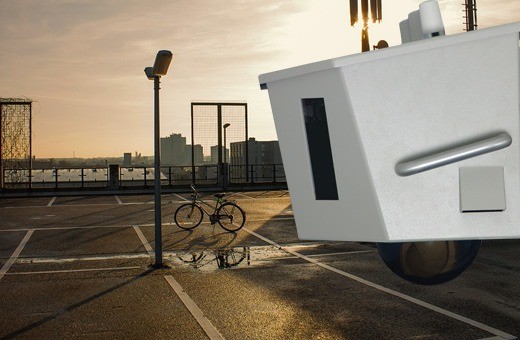 VP400 Multi Camera Deployable Unit Features and Benefits
Axis IP cameras provide incredible clarity, even in low light

View live video from any mobile device

Rugged powder coated steel housing can withstand the harshest environments

Entire system easily mounts on a standard utility pole and only requires 110 VAC

Provides on board storage of up to 2 months of 24/7 recordings

One-year warranty includes all parts, labor, support, and software updates