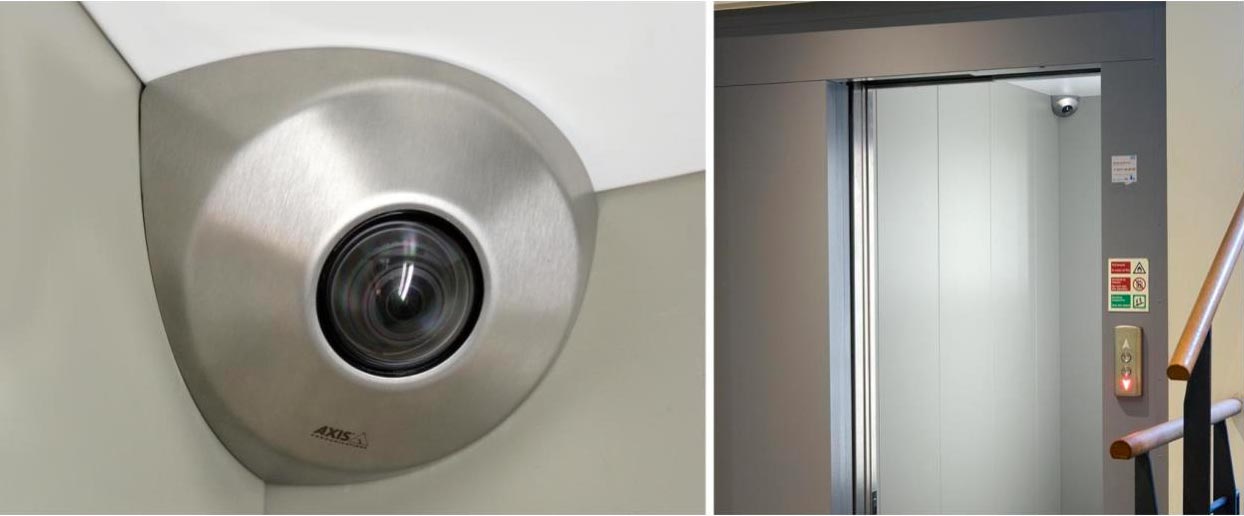 i2c Technologies is excited to introduce the new AXIS P9106-V Network Camera to their law enforcement and corrections customers. The 3-megapixel cameras are designed to mount in the corner of a room or elevator and are ligature-resistant (also known as anti-ligature) to eliminate the chance for vulnerable people, such as those in police custody, to use the device for self-harm.
The AXIS P9106-V is specially designed for out-of-the-box optimized corner-to-corner coverage. It can cover up to 130 degrees horizontally and 95 degrees vertically, without blind spots. Network audio can be added so it can also record dialogue, which is very useful in applications such as police interview rooms.
This discreet camera is available in either brushed steel or white finish and can be re-painted to match any environment, decreasing the chances of it standing out and upsetting or irritating vulnerable persons. If the camera is defaced, its abrasion- and the chemical-resistant front window is easy to clean with the help of detergents or simple graffiti remover.
The AXIS P9106-V is IK10- and IP66-rated for protection against impact, dirt and water ingress. The hardened cameras are compatible with multiple connectivity options to allow installation in environments where infrastructure requirements are unique.
i2c Technologies provides free shipping on all AXIS products throughout the continental U.S. and free remote set-up by their U.S. based tech support staff. Request a Quote Today!
AXIS Communications is the market leader in network video. i2c Technologies, based in N. Canton, Ohio, is the state's premier security technology integrator and an AXIS Communications Solution Gold Partner for over 14 years. i2c Technologies specializes in video surveillance, access control, and deployable surveillance solutions for law enforcement and corrections.