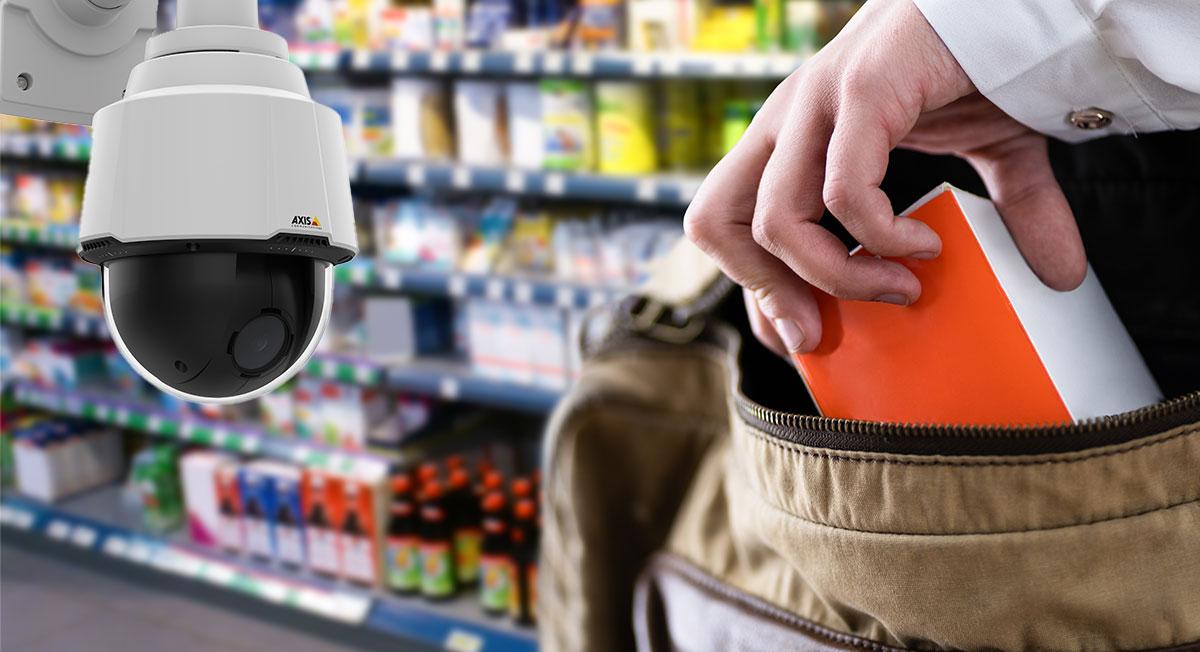 Theft accounted for a loss of 1.4% of all sales in malls and retail stores across the U.S. in 2021. The National Retail Foundation says this works out to total losses of $94.5 billion.
Most of this inventory loss was due to shoplifting, while a large percentage came from internal employee theft.
According to FBI data, there were 548,000 shoplifting cases in 2021 and 835,000 cases the year before. And these were just the cases that were reported. Meanwhile, 22% of small businesses say that they have had employees steal from them at some point.
How can this be avoided?
There are several devices to prevent theft in retail stores, such as: 
Security tags and labels  

Safes for keeping inventory

Security gates at exits

Display locks 
While these are common, there's one deterrent that's proven to be the most effective at preventing theft — security cameras.
The Benefits of Security Cameras
The most obvious benefit of video surveillance is that it helps you gather evidence after a theft. High-quality cameras can accurately detect precisely what has happened, even in areas with poor lighting. 
This can help determine whether your most significant threat is external or internal theft. At the same time, it prevents you from making false accusations, either against a customer, or an employee that you suspect, which can be very damaging to your reputation. 
Another significant benefit of security cameras is that they act as an effective deterrent to crime. Simply informing your customers and employees that they are under video surveillance can help reduce internal and external theft in a big way.
Hidden cameras are ideal for catching and investigating the cause of theft, while larger, more obvious cameras have been effective in acting as a deterrent against shoplifters. Some cameras come with a vandal-proof casing to avoid premeditated theft.
Security cameras also offer 24/7 video surveillance. Since most thefts occur at night when a store is closed, this can provide you with some peace of mind at all times.
But it isn't just security benefits; video surveillance can also offer up data that you can use to enhance your customer experience. They can, for instance: 
Help you identify customer behavior by measuring footfall in your store. 

Help you improve your store layout by tracking shopping patterns.

Keep track of your employees, and ensure they're assisting customers.
How i2c Technologies' Smart Video Solutions Can Help
When setting up a security camera system, there are some questions that you will have to answer: Should you install hidden cameras or more obvious ones? What camera works best for the lighting in your store? How large is the area you want to monitor?
i2c Technologies has experience in designing and planning layouts for security camera systems that are proven to prevent internal and external theft.
Theft Detection and Prevention
Our cameras provide HD images in virtually any lighting, helping you identify suspects and provide authorities with evidence.
An Easy-to-Use System
Our cameras work on an open platform that integrates with most emergency alarm and POS systems. Our security camera system also works with an intuitive interface that allows anyone to manage the system easily.
Valuable Metric Tracking
Our Axis People Counter allows the cameras to be used as an advanced sensor that collects store traffic data.
Case Study: How We Secured a Large Farmhouse
i2c Technologies was tasked with securing a large plot of land in Stark County with a video surveillance solution. The owners used the barn for events and family retreats, and it was renovated with modern fittings that needed protection.
Our approach was to secure this property seamlessly without ruining the barn's decor with obstructive cameras. We installed a system that allowed the owners to monitor the property remotely without being too much of a burden on their cellular plan. 
With our systems, the owners could monitor the rooms, the driveway, stairs, the doorway, and a pool house one hundred yards away — all from their cell phones.
Secure Your Business Today
Interested in being able to monitor your retail business right from your smartphone? We can help! Contact us today to talk about security solutions for your shop.