Copper is often found in warehouses, factories, and remote site facilities.
Copper theft of piping, wiring, plumbing, HVAC & more at these sites is common.
Try to conceal copper where possible so it isn't readily visible. If it can't be moved, paint over it.
Install IP-based video surveillance cameras to significantly reduce the risk of copper theft at your facility.
Copper theft disrupts critical infrastructure such as electrical and telecommunications.
Ohio and Pennsylvania experience the most metal robberies of any other state, followed closely by New Jersey, Connecticut, and Rhode Island, according to the NICB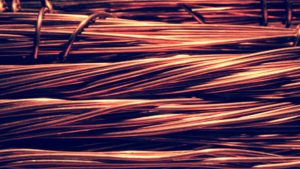 Copper Theft & How To Prevent It
While the trend in recent years has been on the decline, theft of metals and materials from warehouses and remote facilities remains a significant issue in many parts of the United States. Copper, a metal commonly found in factories and warehouses, is the most valuable target by a large margin. Copper wiring, piping, and equipment can be stolen and sold for a good price, making it highly prone to theft if left unprotected.
Given the ever rising price of copper, it seems this is a problem that is not going away. The National Insurance Crime Bureau (NCIB) did a comprehensive analysis of copper theft insurance claims reported between January 1, 2013, and December 31, 2015. In total, 35,961 claims were filed for the theft of copper, bronze, brass, or aluminum during this two year period. 98% of these claims were for copper theft. According to the NCIB, the claims, in general, were seen to decrease in summer months and increase in winter months, with "spikes in claims in January and October." Their data suggests that the numbers of claims filed has a statistically significant correlation with the price of copper.
Federal agencies have noted the issue of copper theft. According to CNBC, the FBI has stated copper theft puts critical U.S. infrastructure, such as electrical substations and telecommunications facilities, at risk. Copper is more common than you might think, and can be found in:
Piping
Wiring
Plumbing
HVAC
Tubing
Coils
Gutters & Spouts
Roofing.
Unfortunately, it is not uncommon for remote site facilities such as electrical substations and warehouses to sit unprotected from intruders. Measures can be taken to minimize risk to your facilities and assets.
Conceal Your Copper So It Isn't Readily Visible
Displaying large quantities of copper in a location prone to unwanted attention is going to put your facility at a higher risk of robbery. Concealing your copper just enough to make it not immediately identifiable is an easy way to significantly lower your facility's risk of copper theft. For copper located in places that cannot be moved, consider painting over to conceal it.
If there is a nearby police station, it might be worthwhile to extend an offer to have them tour your facility. This will give them a good idea of the risk potential of your site, and it will likely be noted for patrol routes. Try offering free coffee for officers who make a visit to your site!
Install Video Surveillance Cameras for Copper Theft Protection
IP Based Video Surveillance cameras are your best bet for preventing copper theft. IP cameras are available in style configurations for any need, from outdoor point of entry (POI) bullet cameras to pan, tilt, zoom (PTZ) dome cameras with full 360-degree image capture. Due to its difficulty, copper theft is often done under the cover of darkness. Infrared as well as light enhancing cameras can provide robust security even at night.
Pairing a network of cameras to modern video management software (VMS) can give you the ability to access live footage from anywhere via mobile device or tablet. The response time that a system like this allows for is second to none. It is even possible to send automatic alerts upon anomalous detections. This provides for a robust video surveillance solution that will minimize the risk of copper theft for your facility.
i2c Technologies has been providing video surveillance solutions and access control for over 12 years. As an AXIS Communications Gold Partner, we provide only the most cutting edge IP-based network cameras for businesses both large and small. We serve a wide range of industries such as electrical substations, law enforcement facilities, industrial & manufacturing.
Further Reading: Close Up: AXIS Surveillance Cameras From i2c Technologies