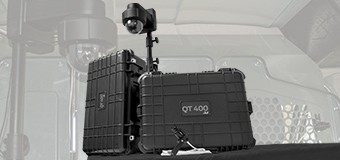 Deployable video surveillance units bring a host of benefits to police departments. Video surveillance helps police departments protect communities and reduce crime through deterrence. A surveillance camera also serves as an impartial witness, producing dependable and reviewable footage of incidents in the field.
Police departments in small and medium-sized municipalities will gain the greatest advantage from the increased efficiency that deployable video surveillance units bring with them. This can be seen most readily in the use of license plate recognition (LPR) cameras, for instance. These cameras can record up to 1,800 license plates in just a minute and check this collected data against stolen vehicle and watch list databases.
i2c Technologies, based in North Canton, Ohio, offers a selection of deployable video surveillance units to law enforcement communities in Ohio and beyond. In addition, as an Axis Communications Solution Gold Partner, i2c only sells Axis cameras, which comply with the National Defense Authorization Act of 2019. Plus, i2c Technologies is an Ohio state term schedule vendor, which enables us to offer special contract pricing to state and local governments.
Here is an overview of some of the deployable video surveillance units that i2c Technologies can provide for your police department or other law enforcement entity.
VP400 Multi Camera Deployable Unit
The VP400 Multi Camera Deployable Unit has a number of qualities that make it a great video surveillance asset for any police department, especially those in small to medium-sized municipalities.
Among the best features of the VP400 Multi Camera Deployable Unit are its versatility and its overall ease of use. The VP400, even when fully-equipped, weighs less than 50 pounds and can be deployed by just a single person. It can be mounted on a utility pole or a building, giving your department the ability to monitor any outdoor area. And the VP400 has been specially designed to provide a clear, unobstructed view even in the rain and snow.
Because the VP400 Multi Camera Deployable Unit also comes in a rugged housing to further protect it from the elements, it's a perfect video surveillance camera for a full range of outdoor locations. These include parking lots, parks, utility installations, construction sites, oil and gas sites, storage yards, and ports and marinas, as well as any other location that can host an outdoor event.
To add to its ease of use, the VP400 requires only a 110 VAC power connection, and will work with fiber, copper, or wireless connections. It can even record footage onto its own onboard video server in the event that no connection is available.
The VP400's three fixed cameras will give you a continuous 220-degree field of view. It comes with 1 TB of storage, and its HD 10x Optical PTZ camera will automatically pan and zoom in on objects of interest.
Click here to read more about the powerful features of the VP400 Multi Camera Deployable Unit.
VX400 Deployable Covert Pole Camera Unit
As with the VP400, the VX400 Deployable Covert Pole Camera Unit is perfect for live monitoring and recording in any outdoor area and is ideal for use in investigations and providing situational awareness during outdoor events.
It's also easy to set up the VX400, as a single person can deploy the unit on any utility pole. The VX400 has the added advantage of looking like a power transformer, giving your police department the ability to monitor and record outdoor areas covertly.
When your department chooses the VX400, you get a unit that records HD footage even in low light and features a 10x Optical PTZ camera (with an option to upgrade to a 24x PTZ camera). Or choose a VX400 option that can accommodate up to three fixed cameras granting you a 270-degree view of your monitored area.
To learn more about why the VX400 is the ideal solution for any police department that needs to conduct covert outdoor video surveillance, click here.
QT400 Tactical Camera Kit for Law Enforcement
The QT400 Tactical Camera Kit for Law Enforcement is an all-in-one video and audio surveillance tool. Its versatility empowers police departments to conduct indoor, outdoor, and onboard video and audio surveillance.
A defining feature of the QT400 is that it fits compactly in a rugged pelican-style carrying case, allowing for quick and discreet transport and deployment.
There are three standard QT400 packages to choose from: Silver, Gold, and Platinum. You can also work with i2c to customize your own package.
Each QT400 Kit package includes a main unit (the camera body) and up to four sensor units. The sensor units are small enough to be placed discreetly in tight spaces up to 40 feet from the main unit and will capture detailed recordings in both bright and low light thanks to their 1080p resolution.
Every QT400 Kit works with a 110 VAC power connection and comes with two 64 GB SD cards. Standard sensor units for each Kit give you a 113-degree field of view, and fisheye sensor units for each Kit provide a 194-degree field of view.
With the Gold and Platinum QT400 Kits, your police department will also get a ruggedized server and a 4G LTE cellular modem. The Platinum Kit gives you even more features, including a 1080p PTZ camera with 10x optical zoom, a PureSine inverter for 12 VDC battery power, a custom tripod with a camera mount, and the option to add a number of other accessories.
Click here to learn more about the features of the QT400 Tactical Kit for Law Enforcement and the benefits it will bring to your police department.
Trust i2c Technologies
No matter which deployable video surveillance unit you select to meet the needs of your police department, you will gain all of the benefits that come with choosing i2c Technologies.
The primary benefit you'll receive is outstanding tech support from our team of U.S.-based experts. Our surveillance units feature best-in-class cameras and software that can easily integrate with your existing operations systems.
Since our founding in 2005, law enforcement agencies throughout Ohio and beyond have counted on i2c Technologies to help them protect the communities they serve.
Testimonials from the Toledo Police Department, the Shaker Heights Police Department, the South Euclid Police Department, the City of Fairlawn Police Department, the Summit County Sherriff's Office, and the Marietta College Police Department speak to i2c's tireless dedication to the law enforcement community.
Even the FBI and the U.S. Secret Service have counted on i2c's expertise to support them in their law enforcement missions.
Contact i2c Technologies today to request a quote for the best deployable video surveillance solution that will meet your police department's needs.
i2c Technologies: Providing Protection, Exceeding Expectations.